UUTTA/NEW:
Draft versions of the first ever fact-checking lesson plans on adapting transparent Faktabaari methodology to be used among future voters in Finland (stakeholder consultation ongoing)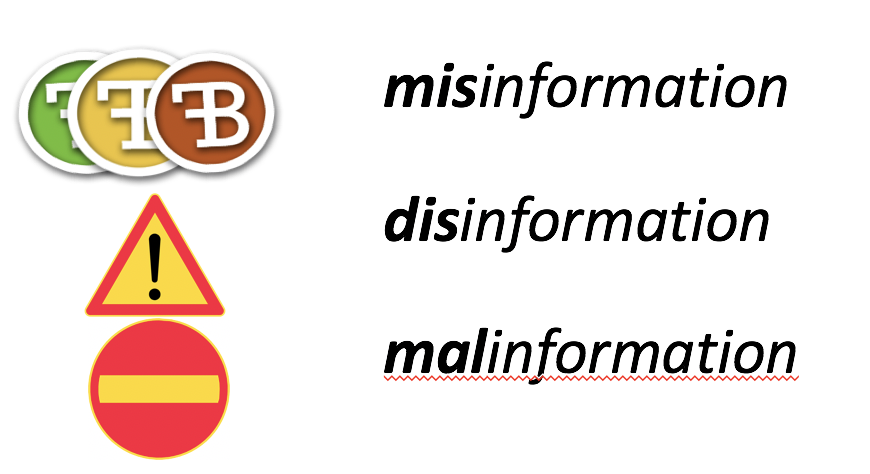 | | |
| --- | --- |
| VVVsanasto | DDDvocabulary |
| #Virheellinen | #Defeating |
| #Vääristelty | #Deceptive |
| #Vahingollinen | #Damaging |
Replacing "F*ake News" by #VVVsanasto and #DDDsanasto
Background: Faktabaari EDU -> Factbar EDU


Faktabaari EDU medialukutaitoprojektissa sovelletaan Faktabaarin asiantuntijoiden käyttämiä faktantarkistusmenetelelmiä ja työkaluja media- ja infomaatiolukutaidon kehittämiseen. Tavoitteena on rohkaista mm. oppilaita kriittiseen ajatteluun, analysoimaan mediaympäristöään ja innostaa heitä osallistumaan yhteiskunnalliseen keskusteluun. Lähestymistapaa on kehitelty kunnallis- ja presidentinvaalien yhteydessä Helsingin ranskalais-suomalaisen (HRSK)koulun kanssa. Paraikaa valmitelemme myös yhteiseurooppalaista hanketta kansainvälisen verkostomme kanssa liittyen Euroopan parlamenttivaaleihin 2019. Our approach builds up to IFCN transparency principles and Council of Europe Information Disorder report vocabulary translated to future voter use.

Faktabaari EDU medialiteracy project applies Faktabaari fact-checking methods for media- and information literacy training. The objective is to encourage students to critical thinking analyse their media environment and inspire them to participate to societal debate. The approach has been developed with Lycée franco-finlandais d'Helsinki (LFF) during municipal and presidential elections debates. We are currently preparing  a European media- and information literacy project - @FactBar with our international network in view of European elections 2019.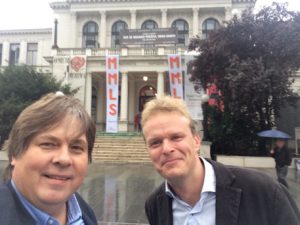 Kari ja Mikko MMLS2017
Report from Sarajevo Media Meets Literacy #MMLS2017 seminar and updates here.
Lisää /more @Faktabaari #EDU suomeksi & @FactBar in English 
kari(at)faktabaari.fi
mikko(at)faktabaari.fi
Presentation of Kari Kivinen: The New Finnish curriculum, multi literacy & active citizenship

Presentation of Mikko Salo: Faktabaari EDU – Factchecking as tool to teach Critical medialiteracy to future voters & vaccination against populism @ #MMLS2017 Sarajevo 22.9.2017
Related article: Against Fake Information and for Voter Literacy - Fact-checking initiatives form a major pedagogical mission (Jaakkola, M. Nordicom-Information 40 (2018)

information literacy project @FactBar (https://twitter.com/factbarnternational network in view of European elections 2019)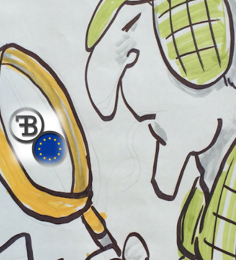 kari(at)faktabaari.fi
mikko(at)faktabaari.fi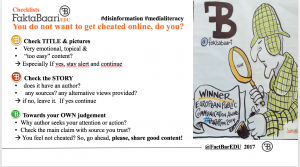 Faktabaari "Totuus" EDU poster designed by Jesper Vuori